Scuba Diving in Malaysia
>

Home

Welcome to Go Scuba Diving Malaysia online! Go Diving Malaysia was set up to provide Scuba Diving training and Professional Diver courses conducted by highly experienced Instructors in Malaysia.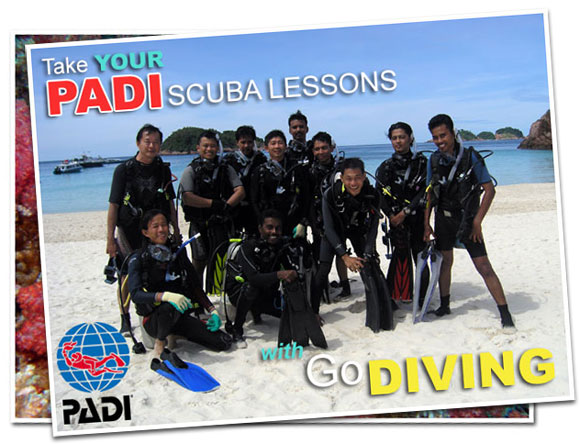 We provide PADI Dive Courses ranging from beginner level up to Professional level as well as specialty courses such as deep diver, night diver, enriched air (nitrox) diver, wreck diver and many more.
We also offer snorkeling, dive trips and can even sort you up with accommodation with a wide range of resorts throughout Malaysia.
Our aim is to bring you the very best in Scuba Diving and friendly advice. Our website also contains extensive information on all various Scuba Diving training.
Whether you want to learn to scuba dive, continue your dive education or look for something specific to Dive sites in Malaysia, it's a good place to start off. You can be assured that we can offer you excellent service.
Please take a moment to browse our website and if however you have any questions or would like further information, please feel free to email us at info@godiving-malaysia.com